Find what is and why is mandatory to pay a reef tax.
'Reef Tax' seems to crop up a lot. Unsuspecting tourists pay their money for fishing, snorkeling, or diving, then turn up on the day to be hit with an extra charge. It's not much, only US$5 for children above 5 years old and adults, and free of tax for infants under 5 years. If your tour is, for instance, at night, you don't need to pay this tax because you won't be able to do the snorkel activity.
Some customers only shrug and pay it. Others stamp and scream out, 'scam!', but what are these charges, and where is all that money going?
Reef tax is a federally imposed tax and is used to maintain the environment in which we are having a good time. Thus Cancun Sailing and our guides do not receive that money.
The 'reef tax', correctly known as 'The Federal Marine Park Tax' and can be viewed as your entrance fee into a marine national park. It was imposed after a study instigated by the Mexican and the World Bank, into the effects of tourism on sea life in the area. In particular, the report was concerned with investigating the condition of the coral reef, which stretches to the Yucatan Peninsula all the way down to Belize.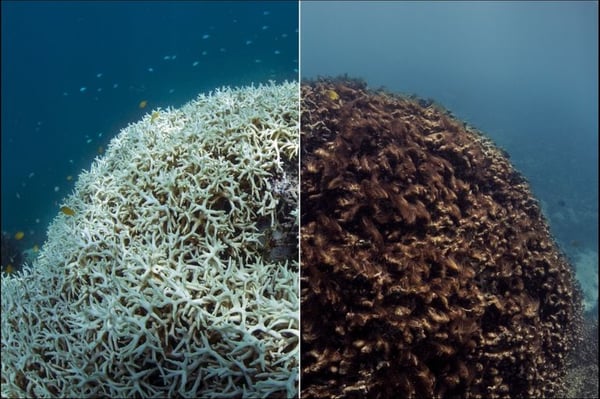 Article 198 of the Mexican Federal Law states that 'visitors who practice aquatic activities within the National Marine Park' have to pay a tax of US$5. This money is used exclusively for protecting the waters and the coral reef areas. There are many and varied ways that this money is spent. These include:
Building of artificial islands for the mooring of speed boats over the coral reef. There are only a few mooring spots, hence that limits the number of people over it at any one time. It also stops boats colliding with the reef or damaging it with their anchors.
Staff to monitor the water levels, the condition of the coral reef and inspect all tour operators to ensure that they are complying with the new rules and recommendations.
The construction of bigger sewage processing plants, better able to cope with the sheer number of tourists.
Reef prevention and repair work
Other measures which came into force included:
Ban the use of non-biodegradable sunscreen in the Caribbean Sea. Visitors intending to head out on aquatic activities are likely to be checked and all non-biodegradable sunscreens taken off them. All tour operators must sell biodegradable sunscreen, with non-contaminating ingredients, as substitutes.
Require a license for all boats in the Caribbean Sea. Though only a nominal fee for this license is required, the captain/guide can only obtain it by taking a two-day course in reef ecology and care.
Apply restrictions upon the type of oil and petroleum that boats are allowed to use.
All visitors to the coral reef are required to wear life vests. In addition to being lifesavers, these vests have the bonus of being buoyant. Those wearing them will find it difficult to dive underwater to break off pieces of coral for souvenirs.
In summary, your reef tax payment ensures the beauty of the lagoons and the sea, for many generations to come.